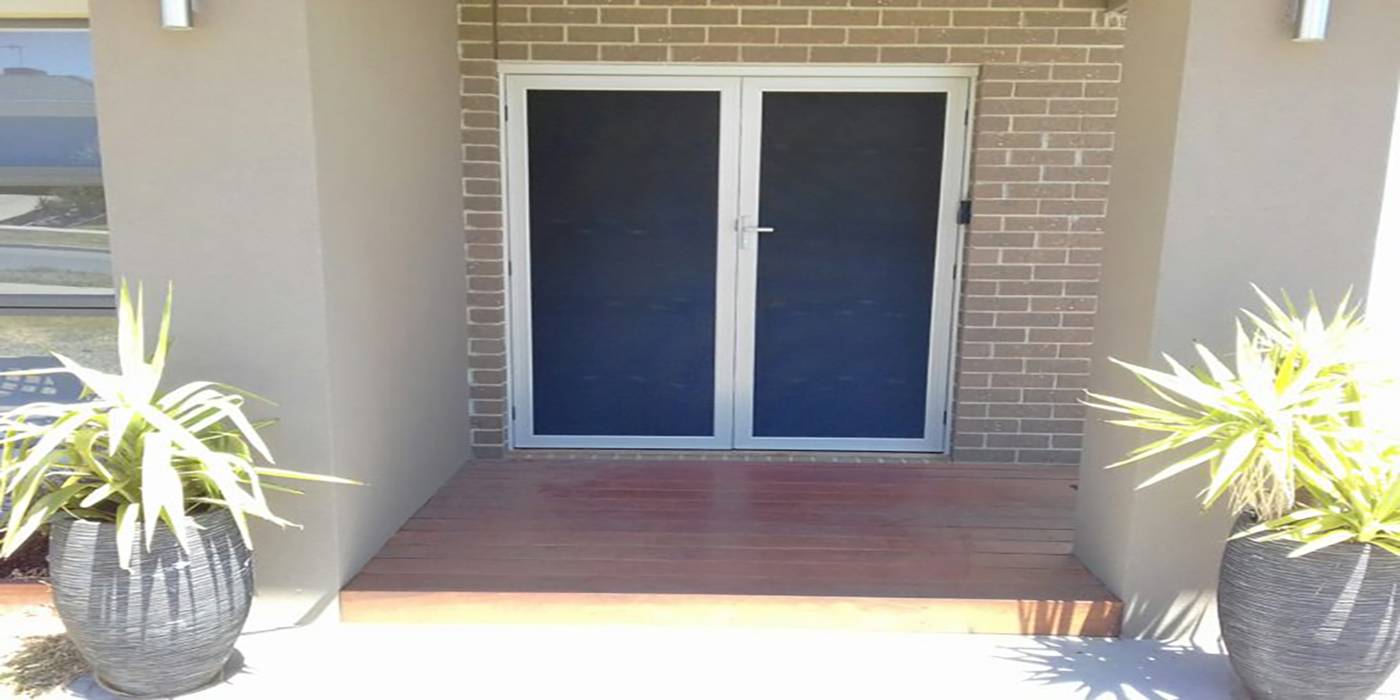 Slide 1
Clear Breeze Privacy Double Security Screen Doors
The mesh design ensures you can see outside, but it limits the field of vision for those looking in, offering you privacy & safety.
Aluminium & Steel Security Screen Doors.
Sales & Installation of Security Screen Doors, Window Security Grilles, Lock Replacements & Repair Service To The Northern & Western Suburbs of Melbourne. Request A Free Quote

Clear Breeze offers quality security screen doors made of aluminum, which makes the doors resistant to rust. The aluminum mesh provides excellent circulation of the air and natural flow from outside. In addition to perforated aluminum mesh, Clear Breeze also specializes in hi strength stainless steel mesh coverings for security screen doors. The different materials, colour options, and décor styles match every home, and you're sure to find something you like.
Our security doors selection range are Clear Breeze Stainless Steel, Clear Breeze Steel, Clear Breeze Privacy & Clear Breeze Perforated with triple lock, triple hinges & aluminium or steel frame. Triple Lock is optional.
Three Point Locking System.
Pet Doors For Security Screens.
Variety Of Mesh Styles For Screen Doors.
Aluminium Tuff Screen In Black.
Hi Strength Privacy Mesh In Black.
Keep Your Home Safe With Clear Breeze Doors
Why Choose Clear Breeze to Secure Your Home?
Melbourne's Choice 
Clear Breeze Security Doors has been serving the Melbourne area since 1994, providing quality security screen doors to the community. There's many benefits to installing a security screen door to your home, and having Clear Breeze install the doors make the entire process simple.
Contact us now! And find out more about Clear Breeze Security Doors or Kindly browse our website, Our representatives will be glad to answer your questions regarding our products.
1. There's nothing like enjoying the breeze through your home on a beautiful summer day. Though natural airflow can be great, you still want to make sure your home is secured all year round.
2. Security screen doors provide a cost effective way to keep your home save and protected while enjoying natural air conditioning and ventilation. Additionally, these doors are very durable, despite being lightweight. There are many different styles and options for design, they can add appeal to your home in both aesthetic and functionality.
3. Security doors from Clear Breeze are excellent choices for either windows, doors, or side lights, and the security and durability is never compromised. The best part is you can get a free quote online, or Clear Breeze Sales representative can come and provide accurate measurements and a free quote at the site of your home. All security doors have a one year warranty from the date of installation.